lunedý, 11 dicembre 2006
Hail to the guests
come to FantArte!
May they enjoy
their visit!




We produce works of calligraphy and pyrography on paper, wood and leather, tolkien-related and not.

Inside the Gallery section there's a selection of the works we show in several events... give them a look! And don't you forget our Guest Book!

Invitiamo i nostri gentili ospiti nel
Sito Italiano
The Children of H¨rin - Runes by FantArte
venerdý, 30 novembre 2007
Since November the 29th you can find in bookshops the italian Deluxe Edition of "The Children of Hùrin", a posthumous novel by J.R.R.Tolkien, cured by his son Christopher. Published by Bompiani, it counts Matteo "Erumer" Tognela as a co-worker for the illustrated dust-jacket. More precisely, his are the runes in golden background, substituting those taken from the english edition of "The Hobbit" used for the preceding de luxe editions of the same author. The decorative pattern consists in the repetition of the quenya title "Narn i Chîn Húrin" transcribed with runic alphabet. Thanks to Edoardo Volpi Kellermann for the contact, to the Cultural Association Eldalie for the background and to Daniel Reeve for reassuring me about a particular rune choice.
Tolkieniana Net Festival II
lunedý, 02 aprile 2007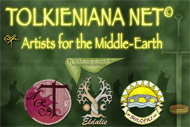 From April 28th to May 1st 2007 we're taking part to the Tolkieniana Net Festival, in Buccinasco; this second edition of the event organized by Edoardo Volpi Kellermann will group the main Italian Tolkienian assocations, and many Middle Earth artists.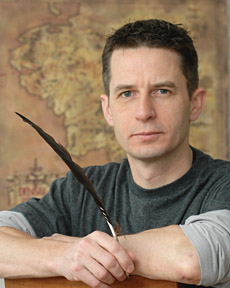 Guest star (for the 1st time in Italy!) is the freelance artist Daniel Reeve, employed by Peter Jackson for the calligraphic and cartographic works in his movie trilogy "The Lord of the Rings"(see his HomePage and Focus On - Daniel Reeve). We'll be there with a desk showing/selling our handcrafted items, shows of calligraphy and pyrography, labs for children (of all ages!), and calligraphy classes (together with Roberto Fontana and Serena Battista). For more informations on the program and how to reach us, click here .
"Oggi" weekly shows clothes by Lidia
giovedý, 08 marzo 2007
During the event "A Journey through Middle Earth " at the dal Verme Theatre in MIlano, a photographer sent by "Oggi" weekly has taken several pictures in the courtyards and park of the Castello Sforzesco. This newspaper has certainly provided much feedback (4 pages article, about 3,5 millions copies), however it's in many points misleading about the authors of the shown items.
A square in pag. 96 seems to suggest that the author of all the clothes shown in the photo is Emanuele Vertuci of Corium, where no one of the people in there wears any of his handcrafts... About mine own (photo left): it's a work by Lidia "Istamarth" Bellesi , so... by FantArte! Accessories: bracelets Cavalcalupi (decorated by Maddalena Cauraro) and boots by Infunti.

Fantarte at the Dal Verme Theatre
domenica, 14 gennaio 2007
Wednesday, February 21 at the dal Verme Theatre in Milano
"Viaggio nella Terra di Mezzo"
Musical, cultural and ludical day dedicated to the literary world of Tolkien. This event is organized by Tolkieniana Net and the cultural association Sconfinarte, in collaboration with the cultural association Eldalie, Pomeriggi Musicali Orchestra, Sinfonica Tolkieniana, Smial Bolgeri and ArsT (Roman Association of Tolkienian Studies)
We'll be there with a writing-lab, come to meet us!
Calendario Eldalie on Repubblica
martedý, 09 gennaio 2007
| | |
| --- | --- |
| | The calendar of the cultural association Eldalie is published on the site of the italian newspaper Repubblica. Our Matteo "Erumer" Tognela is the author of the title and of the months' inscriptions. |
<< Start
< Prev
1
2
Next >
End >>
Results 1 - 7 of 9